Regular price
Sale price
$7.99 USD
Unit price
per
Sale
Sold out
Authentic Syndicate Trading Co Super Slide Tattoo Glide is all natural, nut free for allergy sufferers, smooth and soothing. Use as an everyday moisturizer, great as a glide during a new tattoo and for healthy tattoo aftercare. Our All New Super Slide is loved by tattoo artists and their clients alike.
Super Slide Tattoo Glide (retro-fresh scent) 2oz or 8oz
Before. During and After.
Ingredients: Naturally Refined Shea Butter, 100% Pure White Bees Wax, Virgin Argan Oil, Golden
 Jojoba Oil, Vitamin E Oil, Apricot Kernal Oil,
 Pumpkin Seed Oil, Grapeseed Oil, Hempseed Oil.
Share
View full details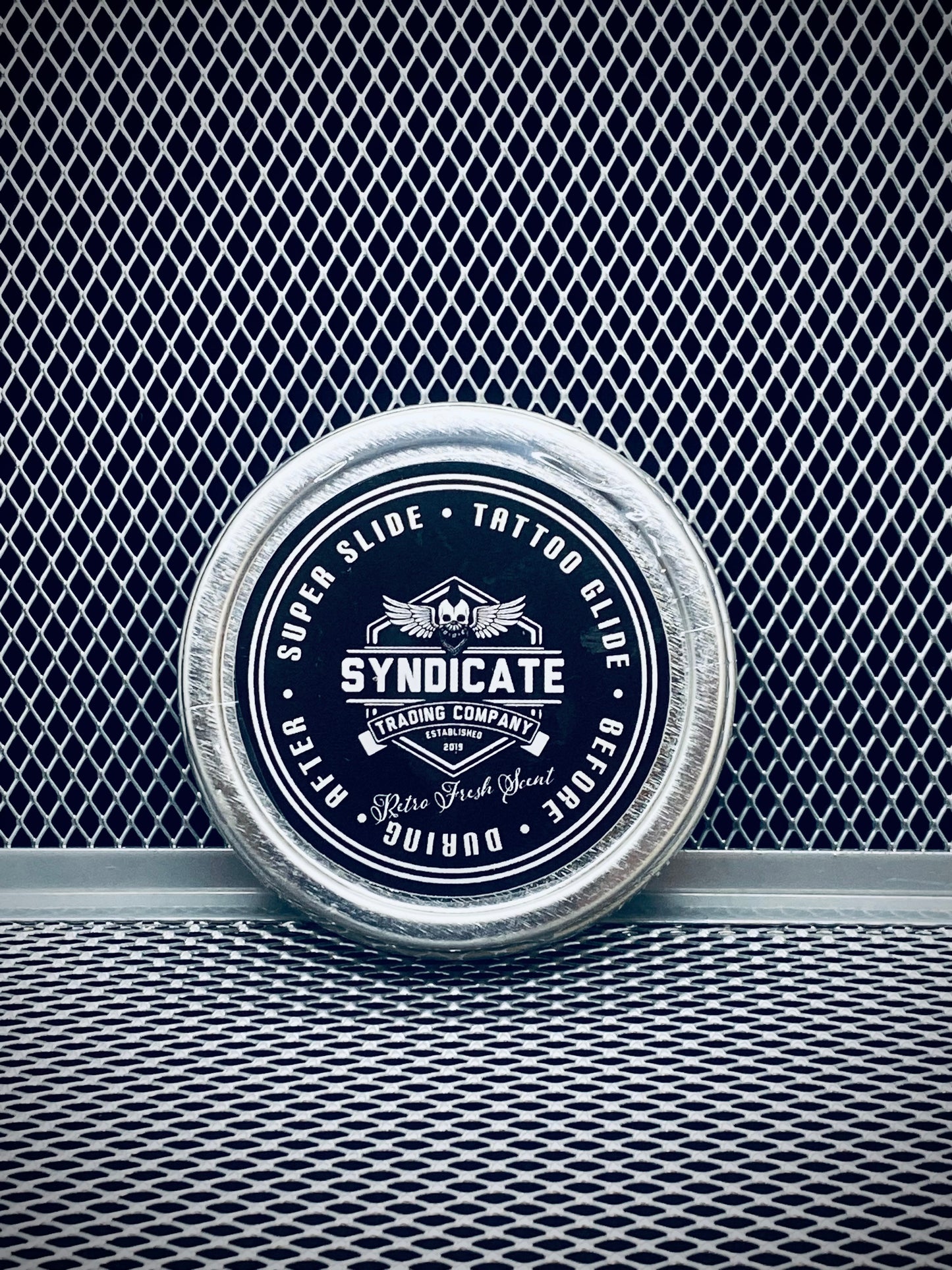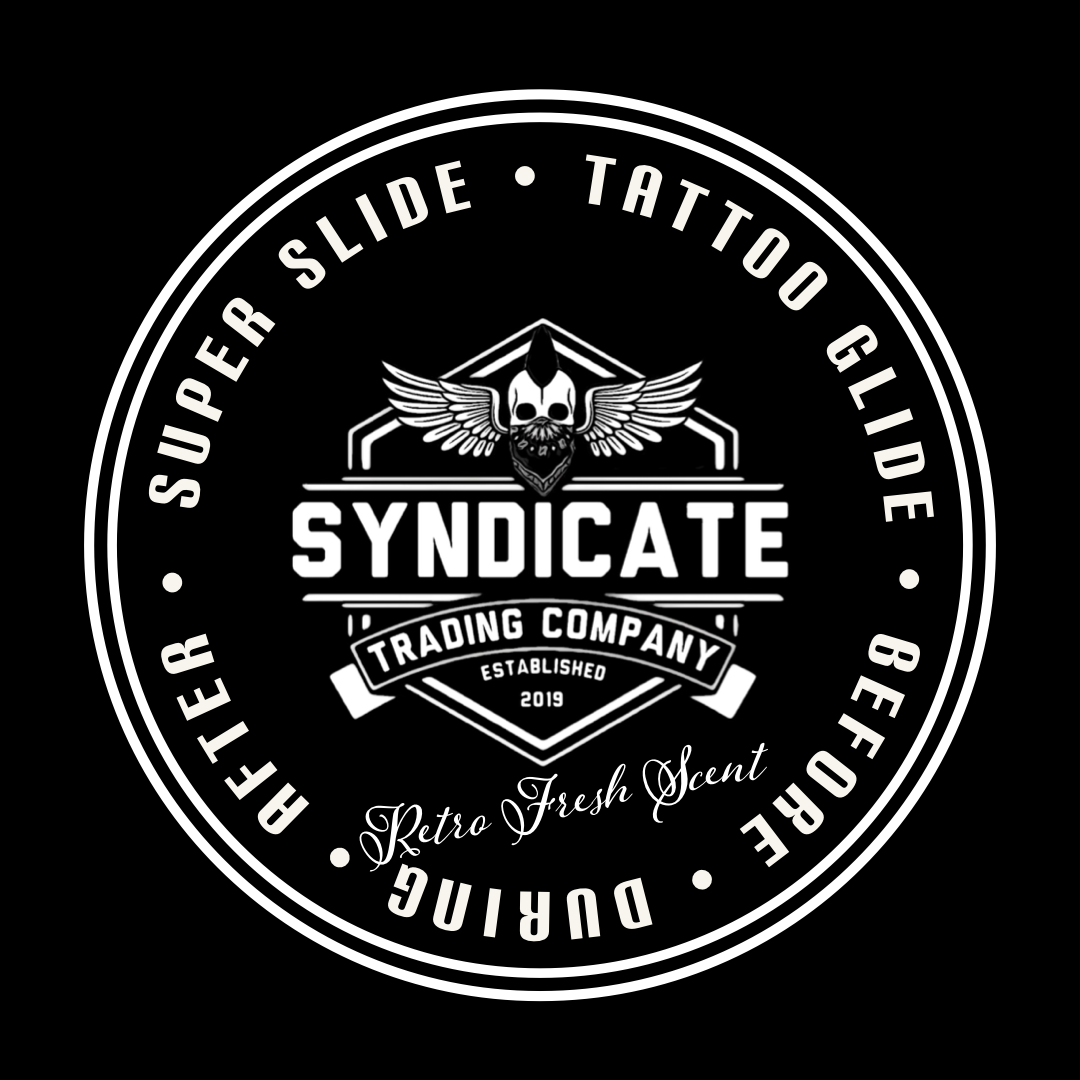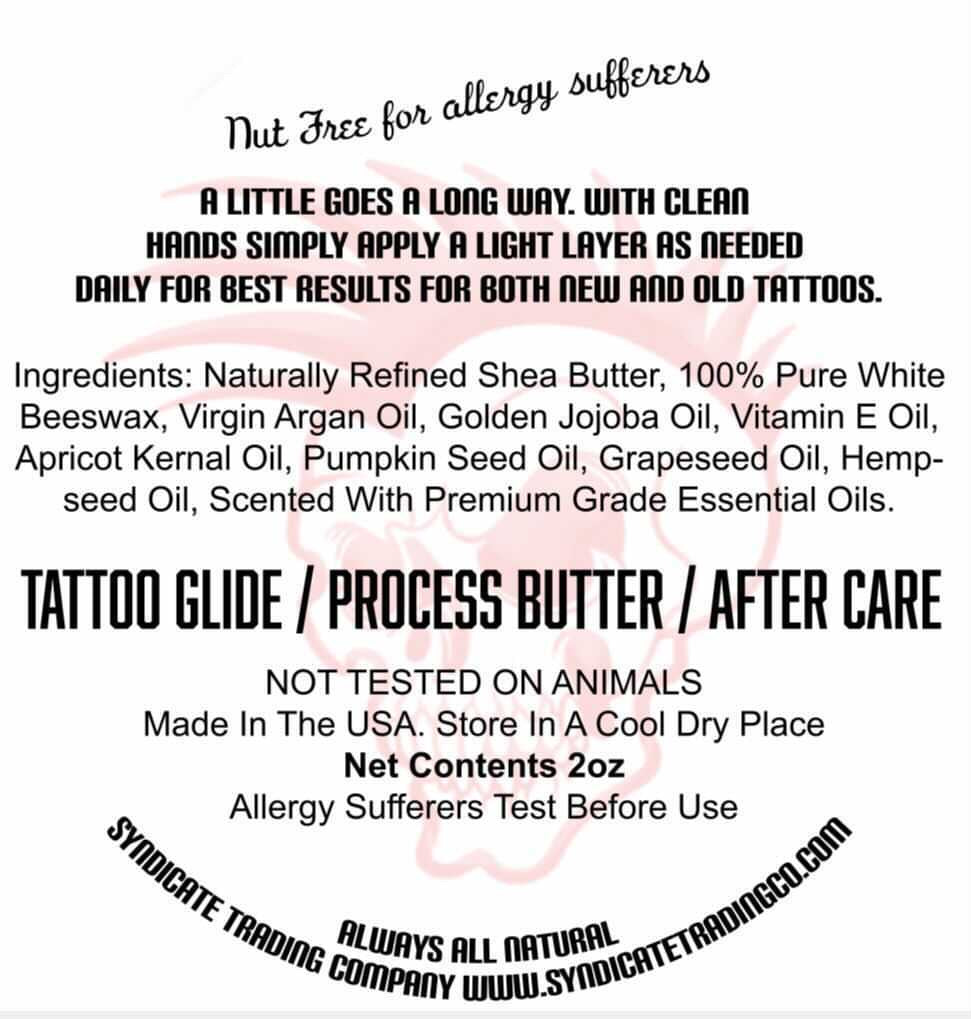 Changing the way we tattoo
Shawn took everything I said with a numerous amount of artist to make this super glide which has changed my way of tattooing, change the comfortability of my clients,non allergenic, reduced readiness and has a smell and consistency that makes the super glide perfect. I use this every tattoo, I give a complimentary aftercare after every tattoo, The reason why is I trust this product, and I know what a tattoo needs to go through a healthy healing process. And the super glide and aftercare is it. Thanks for everything Shawn.
New product!
This ointment is hands down my go to everyday i tip my hat to Shawn for working along side artists to bring forth a product that meets every need with clients in mind first and foremost!!this stuff is awesome the feel of it is great it is minimal redness when tattooing prep the skin amazingly and my clients love the smell and is great for clients with allergies of sorts I highly recommend picking up a few tubs of this stuff a little goes a long way ,trust the process and go try this stuff!!!
Love this stuff!!
As a tattoo artist, I've used so many different products during tattoos and this one is definitely the best. I love using this product because a little really goes a long way. Even my clients love it and ask where I get my products. I always recommend Syndicate whenever I'm asked. Definitely ordering more!
The best glide
I've been tattooing a while and have used many different glides and balms for tattooing and this is the best I have used so far. One big thing is I have a severe nut allergy and I don't have to worry about that with this glide. It's also just amazing you barely use any, it moisturizes my clients skin and doesn't get slick. Great product, great company and highly recommend.